Our Excursions
Over 10 years of work experience!
More than 10,000 satisfied customers
Exclusive deals
Highly skilled and licensed guides
Own vehicle fleet
Special
offer
Book 3 tours and get discount
more than
45
excursions
We are happy
to offer you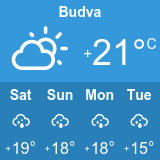 Transfer from the airport to any city 
Organization of the unforgettable events
Pilgrimage tours in Montenegro 
Excursions from different cities with the best guides
Rent of various real estate - apartments, houses, villas
EXCURSIONS IN MONTENEGRO:
BEST DESTINATIONS
Montenegro is a real paradise on Earth with clean beaches, clear water and beneficial climate. Tourists not only come here for the beach tanning but also to visit so many interesting places. Тhe best option-guided tour for a few days, which will fully help you to relax.
They are many attractions and objects to visit. However, the best trips include visits to:
The colourful
canyons
Local
monasteries
Turbulent
mountain rivers
Budva's
riviera
Neighborhood
countries
The most universal option is a sightseeing trip, during which tourists visit the brightest sights. These routes often pass through Boka Kotor bay. As a result, tourists have time to stay in Cetinje, Kotor, Perast, island Our Lady on The Rocks. The way root goes through the beaches and mountain areas. Destinations are great for beginners and experienced travelers too. For those who have long been familiar with the beauty of the country, it is worth referring to a personal guide.
THE BEST TRIPS
Departures from from different cities of Montenegro are individual and group ones. Individual trips cost more but they are considering your interest. Besides, these routes are authorial because they are created by well experienced guides. Traveling a small company, at times its more advantageous and more comfortable to take one of such authorial trips. However, our experienced guides will guide you for wonderful group sightseeing too. The most popular ones in Budva are:
TRIPS AND WALKING TOURS TO SEVERAL CITIES
BOKA KOTOR BAY TRIP
MINI MONTENEGRO WITH VISITING PLACES LIKE NJEGUSI, KOTOR AN CETINJE
TOUR TO BOSNIA AND HERZEGOVINA
TOUR TO CROATIA AND ALBANIA
Our trip routes are different,
before departure you can explore each and choose the most optimal one.
FEEDBACKS AND PRICES
The cost of trips cannot be called high- the prices have not increased. We have quite affordable excursions, and tourists can enjoy the special atmosphere of the old European country and at the same time relax on the cleanest sea coast. Our agency offers individual and group tours from cities such are Budva, Kotor, Tivat, Herceg Novi, Bar, Ulcinj, Petrovac, Sveti Stefan, Buljarica.
Possible visits to neighborhood countries: Albania, Bosnia and Herzegovina, and Croatia. Tourists enjoy the atmosphere of these places, because they remind and look like Montenegro. You can visit several places at once during one trip and the expenses of the trip will be really worthy.
The price in 2019th will not increase, but remain the same. With us you can afford yourself to travel. But the choice of tours may expand. We study traveler's interests and form unique directions. So that is how we found out the tours to neighborhood countries and pilgrim tours too.
Local beauty will be revealed to you every day while you are in this wonderful area. We guarantee that you will get a lot of new positive impressions.
Video